2017 Annual WICA Meeting
Click Here To Download and View the PDF File of the 2017 Annual WICA Meeting Package
The Annual Meeting of the Water Island Civic Association will be held Saturday,
January 28, 2017 at the Honeymoon Beach Pavilion. Registration will begin at
8:30am, and the Meeting will commence at 9:00am.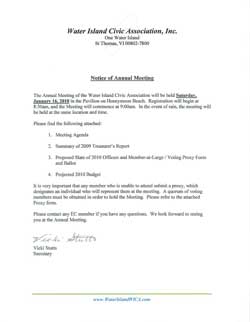 If you will not be attending the Annual WICA Meeting on Saturday January 28, 2017, please send in your voting proxy below. If you do not identify whom you want to receive your proxy it will be given to a random member in attendance. Thank you!